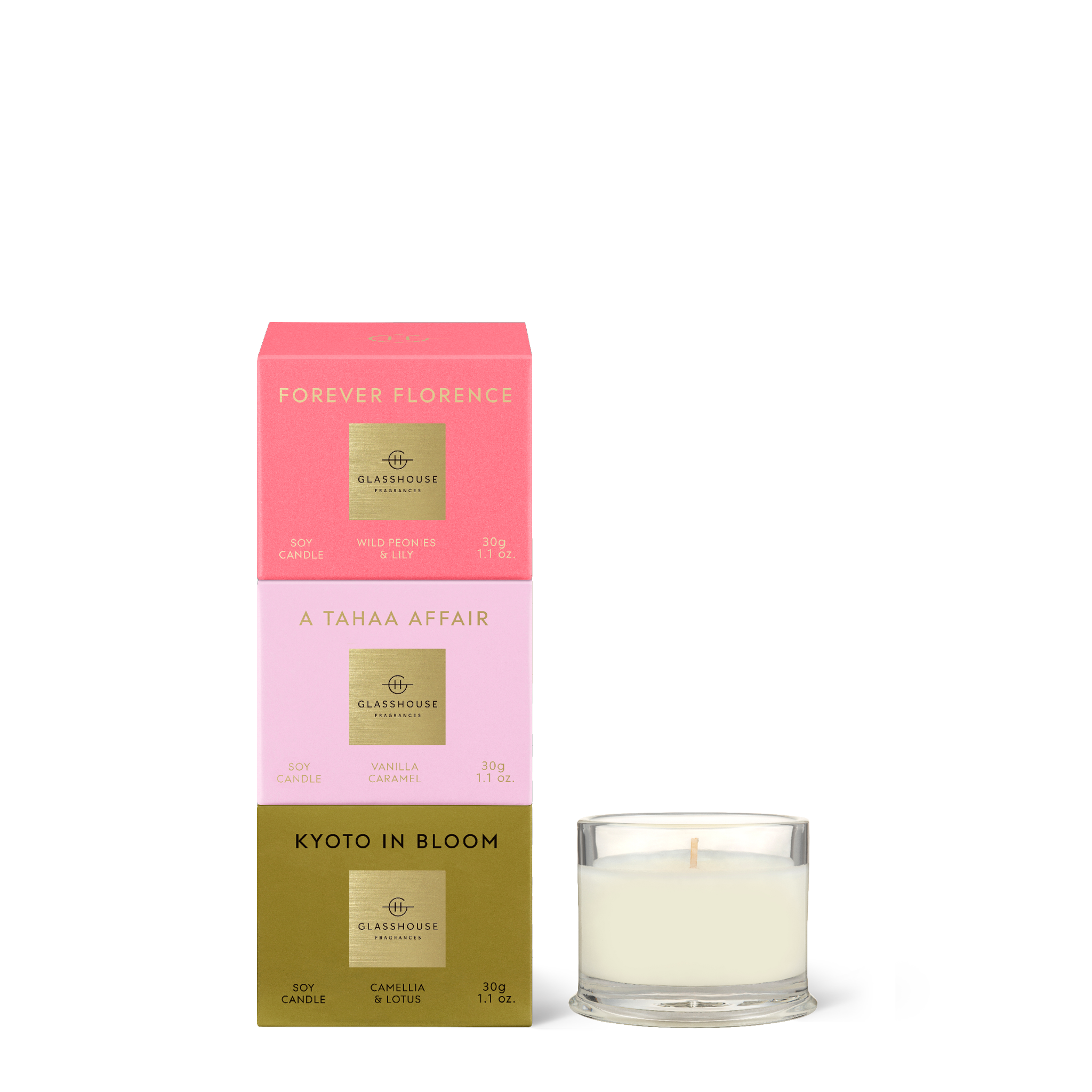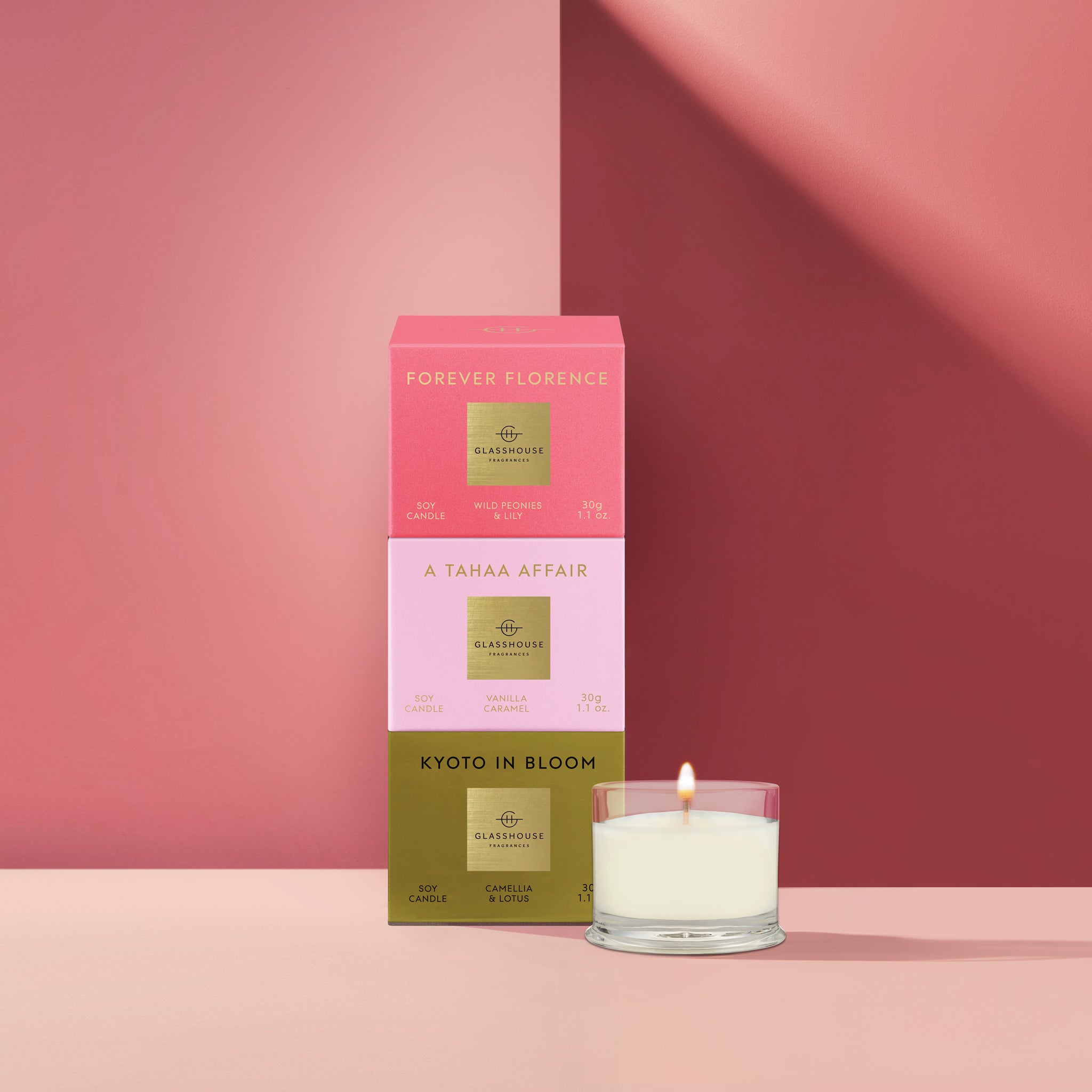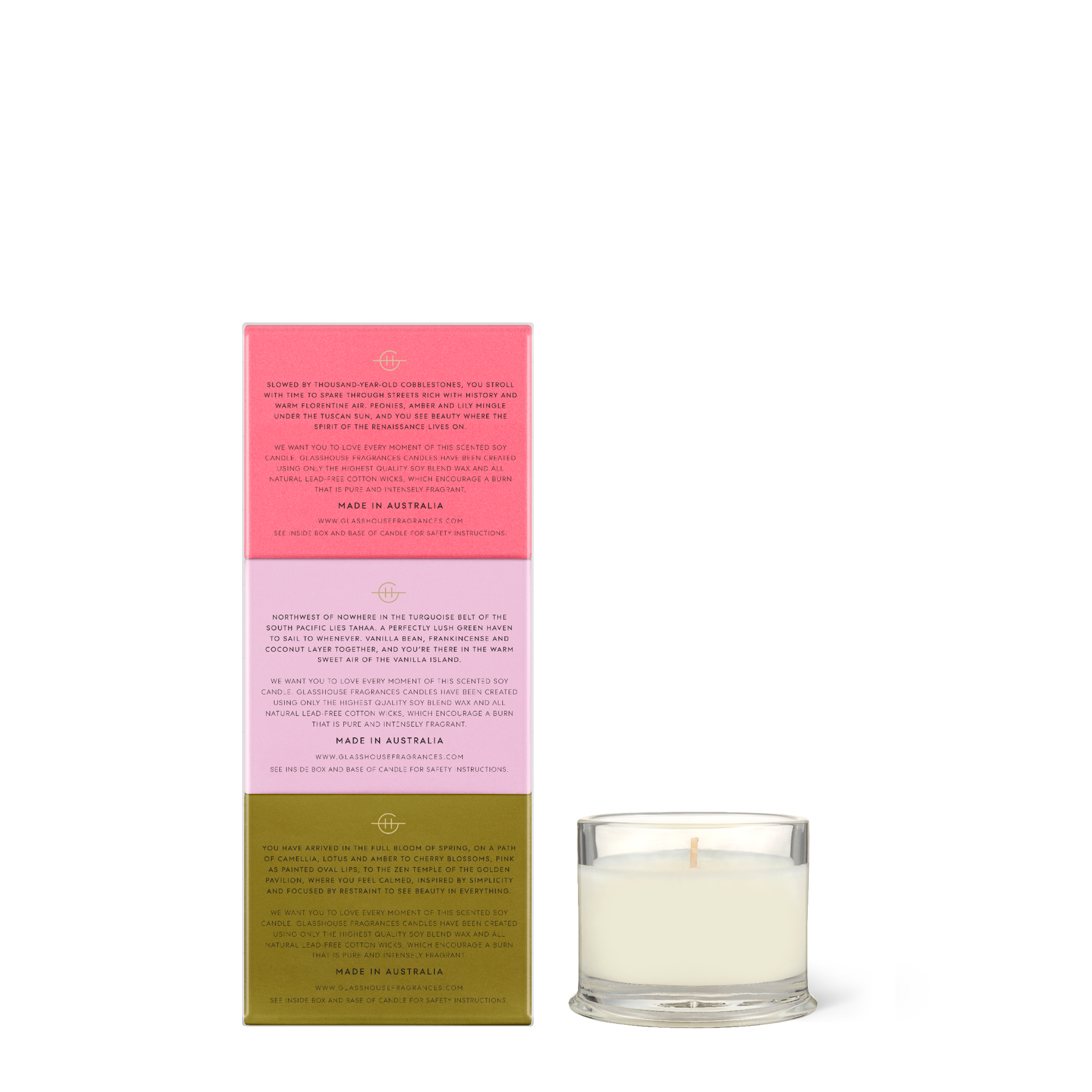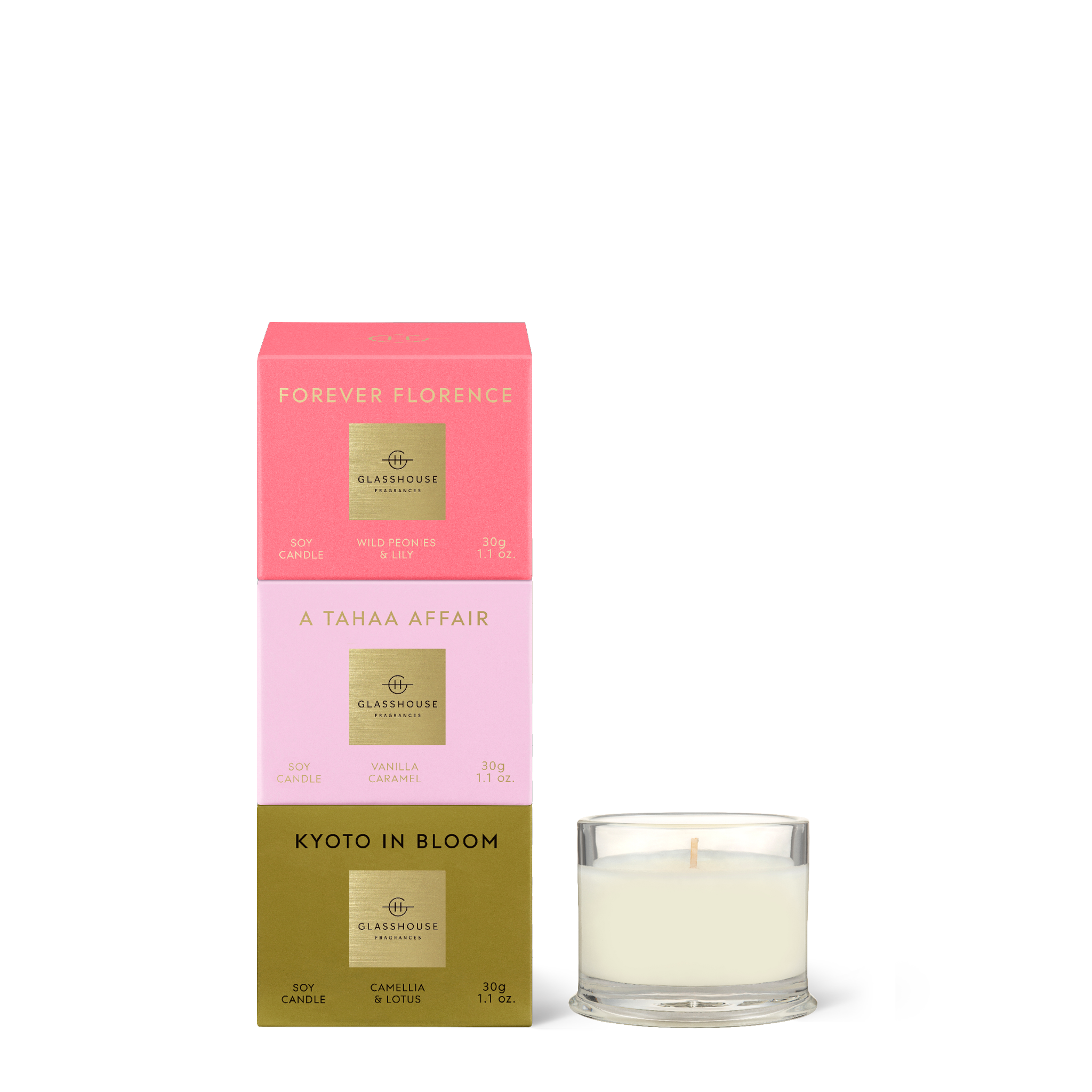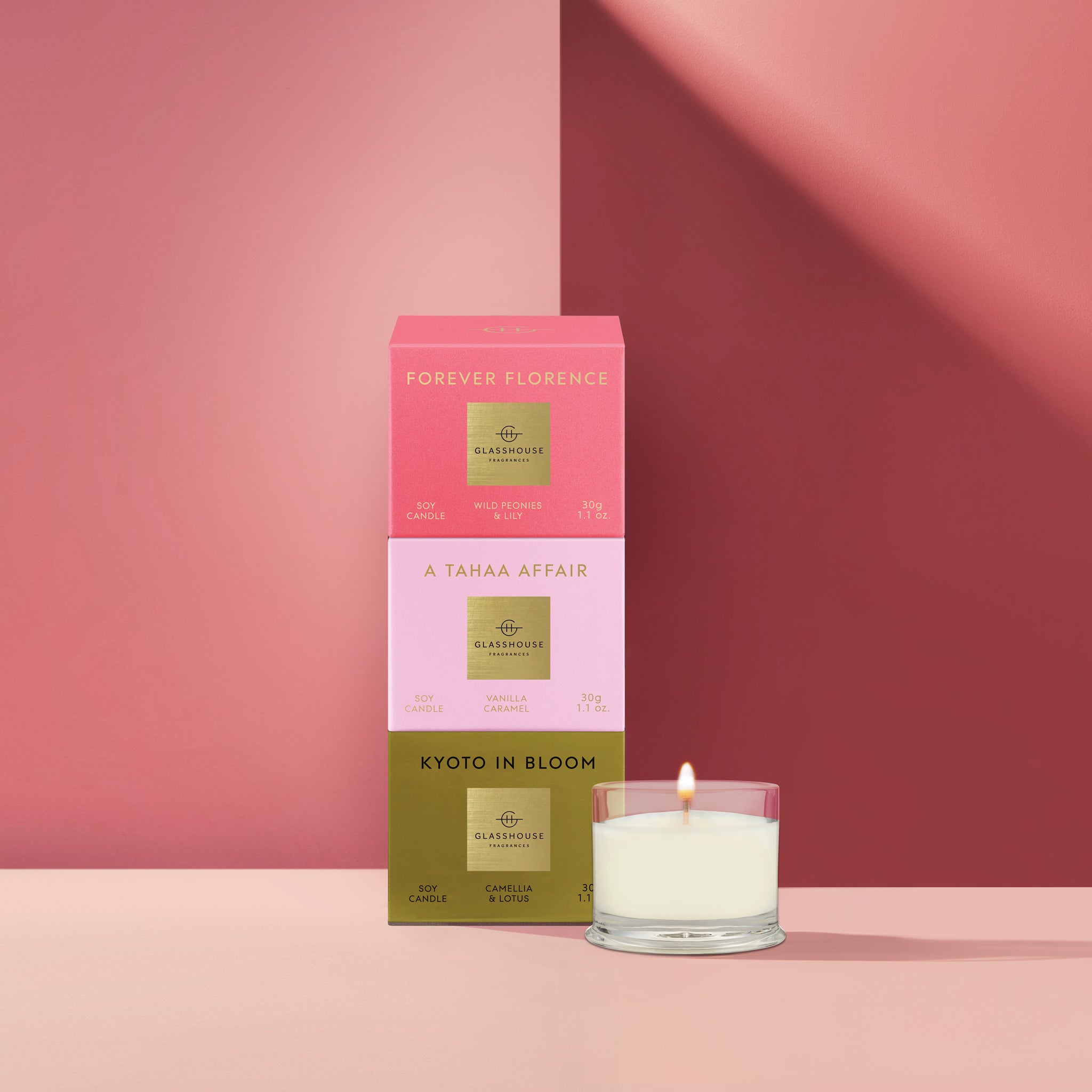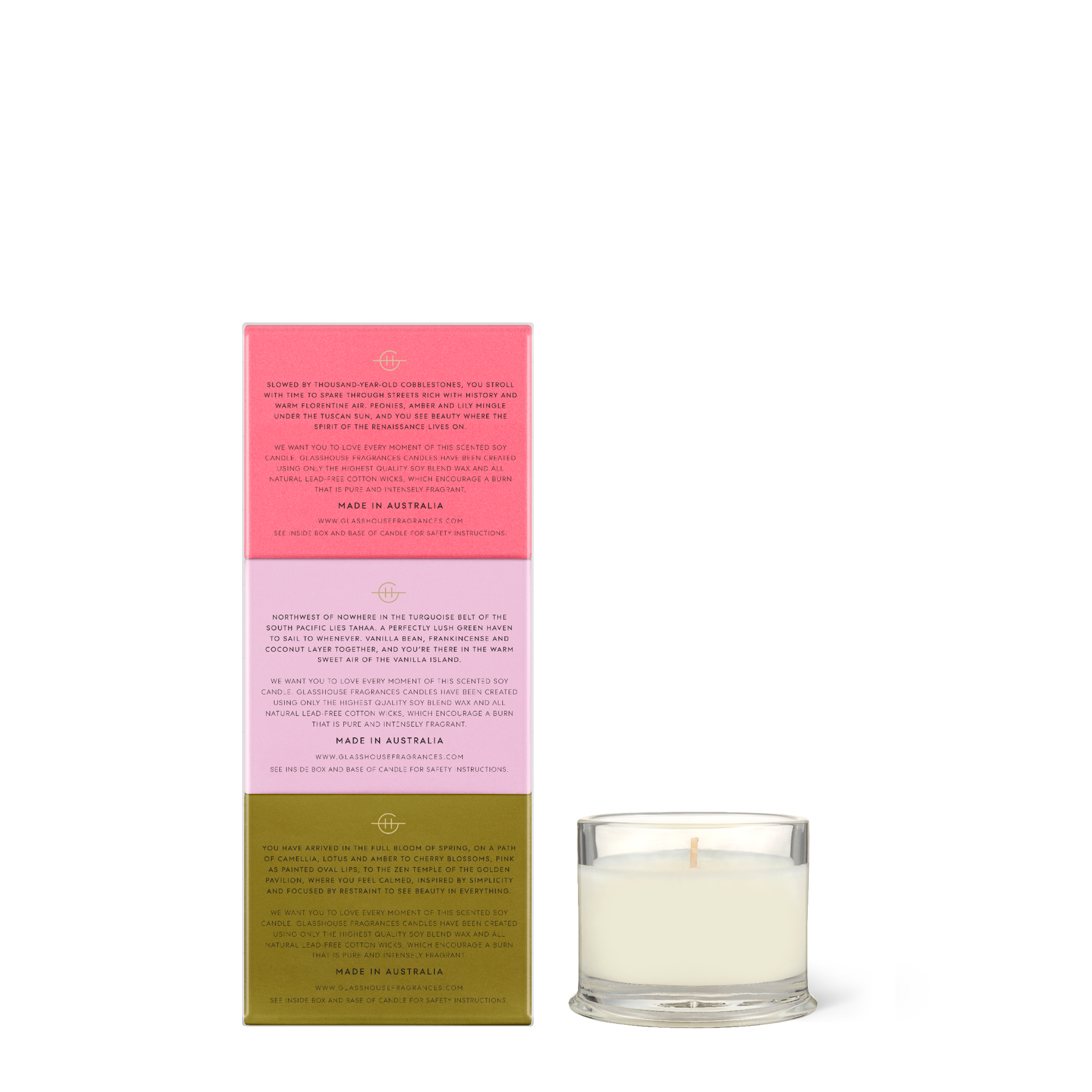 Limited Edition
Most Coveted Trio
${ currentVariant.price | currencyFromCents }
${ currentVariant.compare_at_price | currencyFromCents }
${ product.price_min | currencyFromCents } - ${ product.price_max | currencyFromCents }
${ product.price | currencyFromCents }
${ product.compare_at_price_max | currencyFromCents }
Assorted Fragrances
Gift Set
Discover your scents of self, and your scents of exploration. Available for a limited time only, this set includes three devastatingly cute miniature candles that make a perfect gift. Or keep for yourself to explore some of the best Glasshouse Fragrances has to offer.
Includes 3 x 30g Candles: Forever Florence Wild Peonies & Lily, A Tahaa Affair Vanilla Caramel, Kyoto in Bloom Camellia & Lotus.
Fragrance

Forever Florence is a romantic blend of peonies, lily, jasmine and musk. A Tahaa Affair is a luscious with caramel, coconut & pineapple. Kyoto In Bloom is a sweet and ethereal fragrance with camellia, lotus and amber.
Ingredients

Made with natural lead-free cotton wicks and the highest quality non-toxic soy blend wax for a burn that is pure and intensely fragrant.
No Parabens. No Silicones. No PEGs.

Instructions

Trim wicks to 7mm before each use using scissors or a wick trimmer. If wicks are too short the wax may not burn all the way to the edge (tunneling), and if too long the wicks may appear to mushroom causing black soot to form on the glass.
Place candle in a non-draughty area, away from small children, pets and flammable material.
Do not burn for less than 1/2 hour or more than 2 hours at a time.

Shipping & Returns

Standard Delivery: $9.95 or free for orders over $45. Standard shipping takes 3-5 business days, depending on your location in the USA. More info
Returns: We accept returns within 30 days. T&Cs apply
About the Fragrance
Fragrance Family
Candle Care & Safety
Forever Florence: Slowed by thousand-year-old cobblestones, you stroll with time to spare through streets rich with history and warm Florentine air. Peonies, amber and lily mingle under the Tuscan sun, and you see beauty where the spirit of the Renaissance lives on.
A Tahaa Affair: Northwest of nowhere in the turquoise belt of the South Pacific lies Tahaa. A perfectly lush green haven to sail to whenever. Vanilla bean, frankincense and coconut layer together, and you're there in the warm sweet air of the vanilla island.
Kyoto In Bloom: You have arrived in the full bloom of spring, on a path of camellia, lotus and amber, to cherry blossoms, pink as painted oval lips, to the Zen Temple of the Golden Pavilion, where you feel calmed, inspired by simplicity and focused by restraint to see beauty in everything.
Forever Florence Wild Peonies & Lily is part of the Floral fragrance family. A Tahaa Affair Vanilla Caramel is part of the Gourmand fragrance family. Kyoto In Bloom is part of the Amber fragrance family.
Avoid using in drafty areas, near an open window, air duct or fan. Ensure wicks are trimmed to 7mm during use and each time candle is relit. Do not burn a Glasshouse Fragrances 1.1oz Mini Candle for less than 1/2 hour or more than 2 hours at a time. Stop burning when 10mm of un-melted wax remains in the bottom of the jar. Never allow the candle flame to come in contact with the side of the glass.
For our complete Candle Safety & Care guide, please click here or refer to the enclosed instruction booklet.
Gift Set
Assorted Fragrances