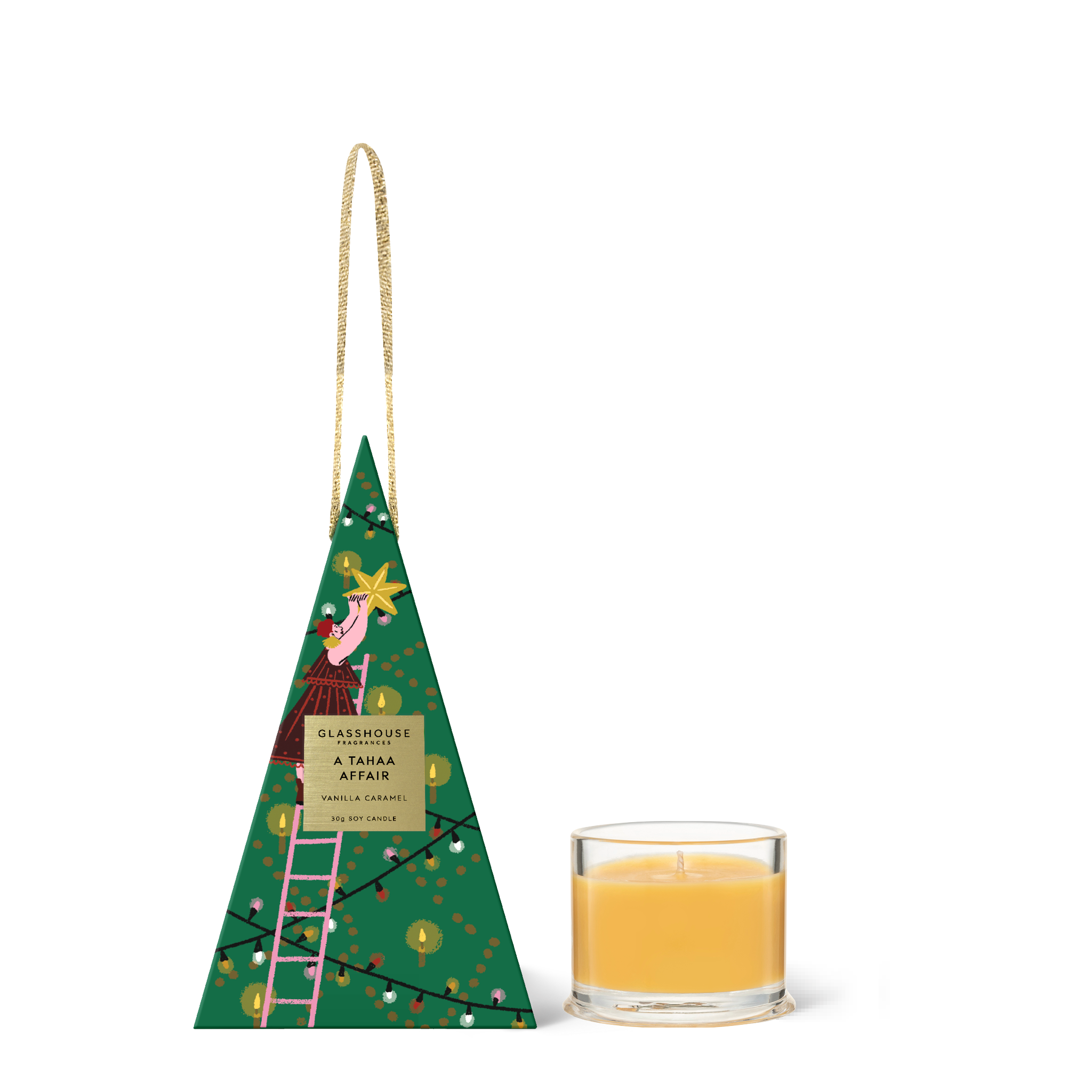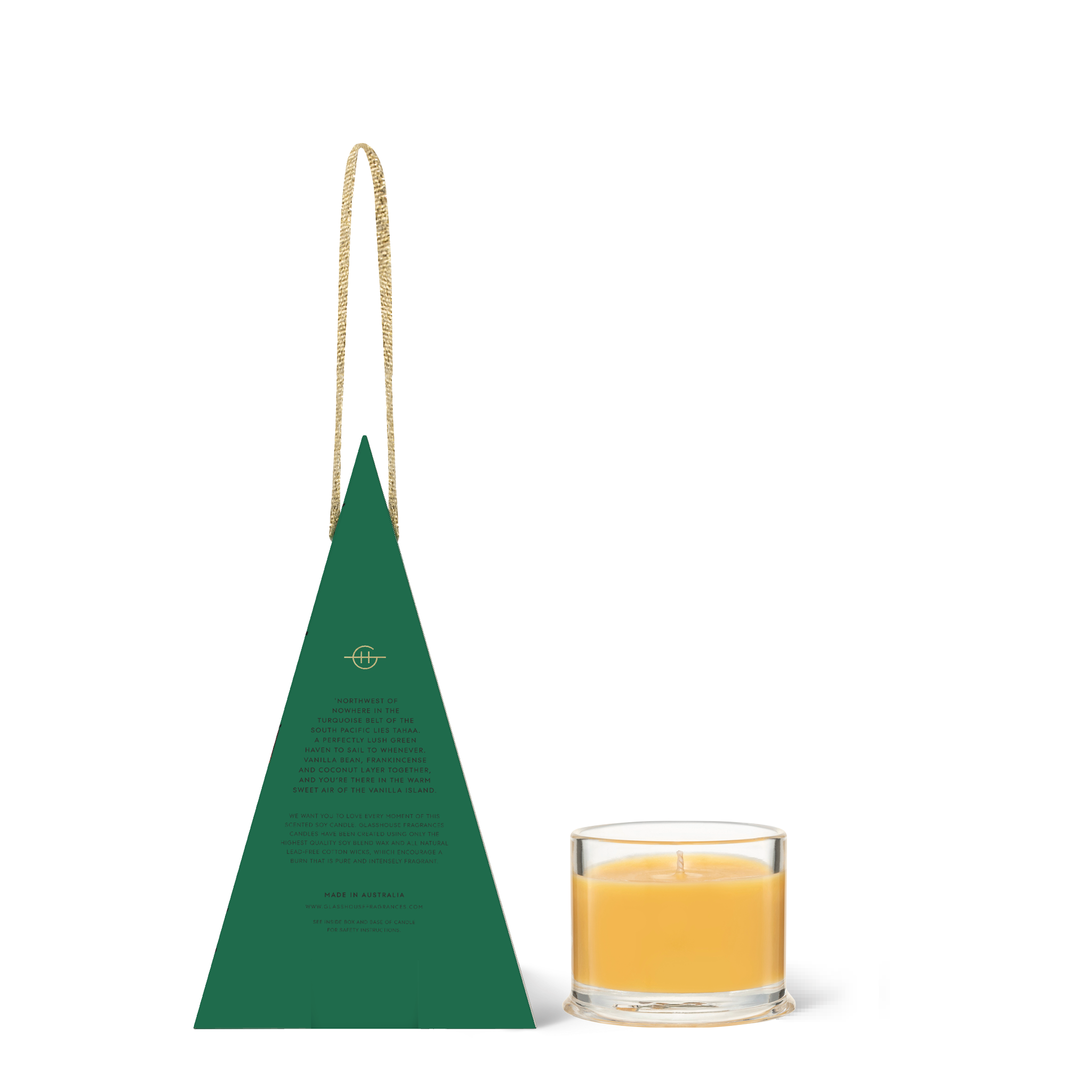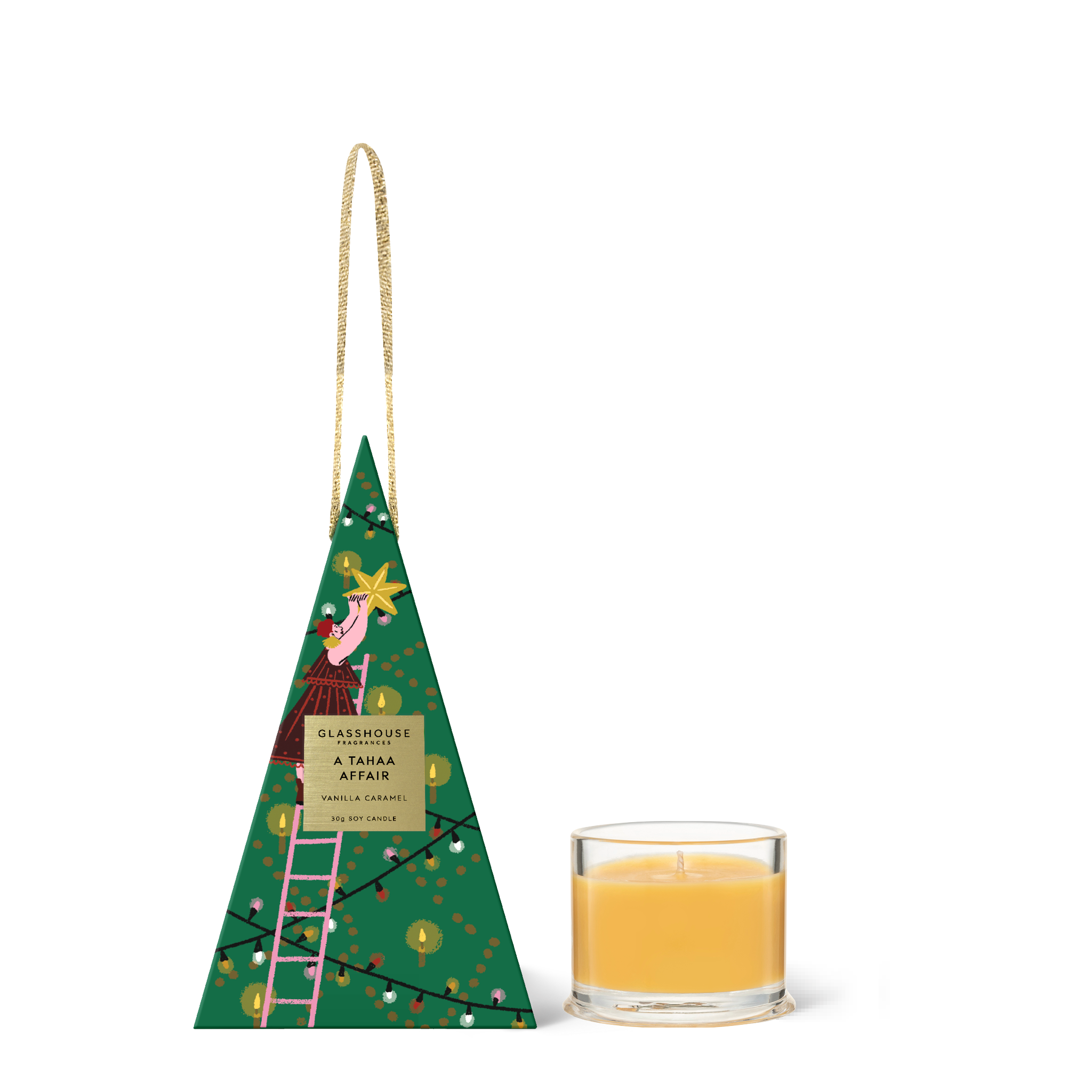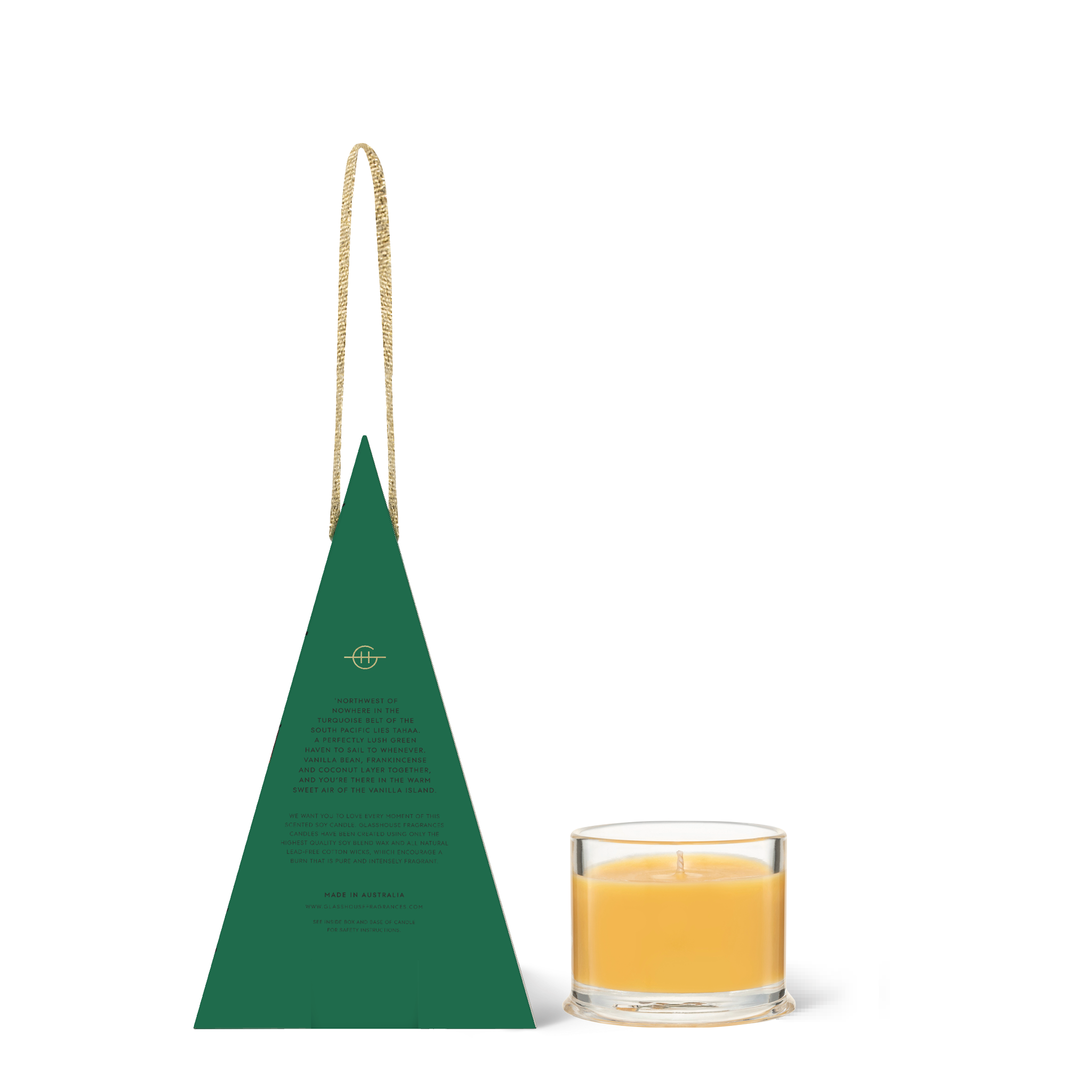 Limited Edition
A Tahaa Affair
${ currentVariant.price | currencyFromCents }
${ currentVariant.compare_at_price | currencyFromCents }
${ product.price_min | currencyFromCents } - ${ product.price_max | currencyFromCents }
${ product.price | currencyFromCents }
${ product.compare_at_price_max | currencyFromCents }
Vanilla Caramel
1.1 oz. Christmas Bauble
A delightfully festive miniature featuring our good-enough-to-eat Vanilla Caramel fragrance.
Contains 1 x 1.1 oz. A Tahaa Affair Soy Candle in a fun and festive bauble.
Fragrance

Top Notes: Pineapple
Middle Notes: Coconut Fruity, Frankincense
Base Notes: Caramel and Vanilla
Ingredients
Made with natural lead-free cotton wicks and the highest quality non-toxic soy blend wax for a burn that is pure and intensely fragrant.
No Parabens. No Silicones. No PEGs.
Instructions

Trim wicks to 7mm before each use using scissors or a wick trimmer. If wicks are too short the wax may not burn all the way to the edge (tunneling), and if too long the wicks may appear to mushroom causing black soot to form on the glass.

Place candle in a non-draughty area, away from small children, pets and flammable material.

Shipping & Returns

Standard Delivery: $9.95 or free for orders over $45. Standard shipping takes 3-5 business days, depending on your location in the USA. More info
Returns: We accept returns within 30 days. T&Cs apply
Fragrance Strength
The most intense of fragrance that fills the room, suitable for a large area where the fragrance throw will go far.
About the Fragrance
Fragrance Family
Candle Care & Safety
Northwest of nowhere in the turquoise belt of the South Pacific lies Tahaa. A perfectly lush green haven to sail to whenever. Vanilla bean, frankincense and coconut layer together, and you're there in the warm sweet air of the vanilla island.
The A Tahaa Affair Vanilla Caramel 1.1 oz. Soy Candle Christmas Bauble is part of the Gourmand Fragrance Family. Gourmand fragrances replicate the wonders of food ingredients. Sometimes fresh and fruity, other times sweet and decadent, but always delectable and ready to party.
Discover more Gourmand fragrances here.
Avoid using in drafty areas, near an open window, air duct or fan. Ensure wicks are trimmed to 7mm during use and each time candle is relit. Do not burn a Glasshouse Fragrances 1.1 oz. Mini Candle for less than 1/2 hour or more than 2 hours at a time. Stop burning when 10mm of un-melted wax remains in the bottom of the jar. Never allow the candle flame to come in contact with the side of the glass.
For our complete Candle Safety & Care guide, please click here or refer to the enclosed instruction booklet.
1.1 oz. Christmas Bauble
Vanilla Caramel