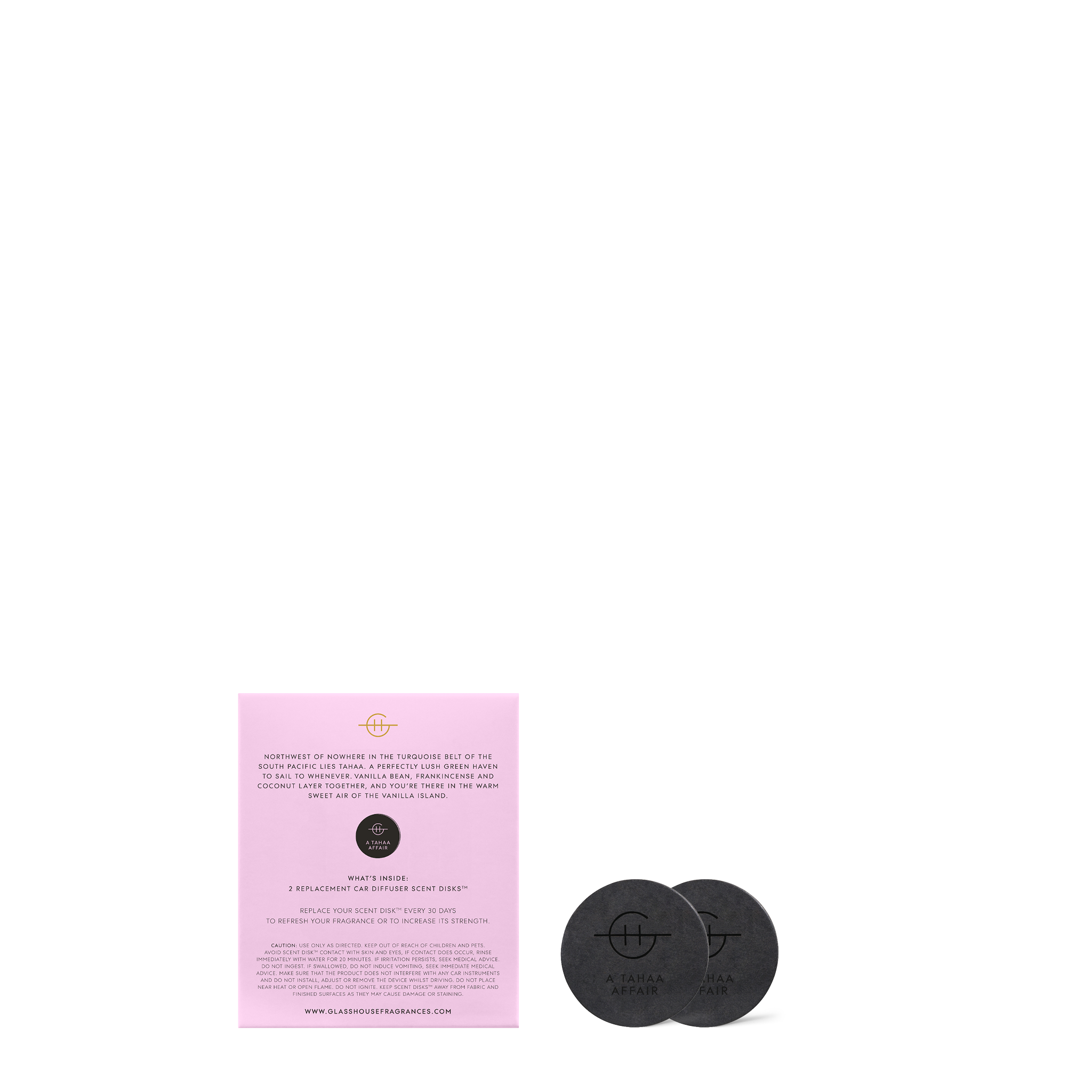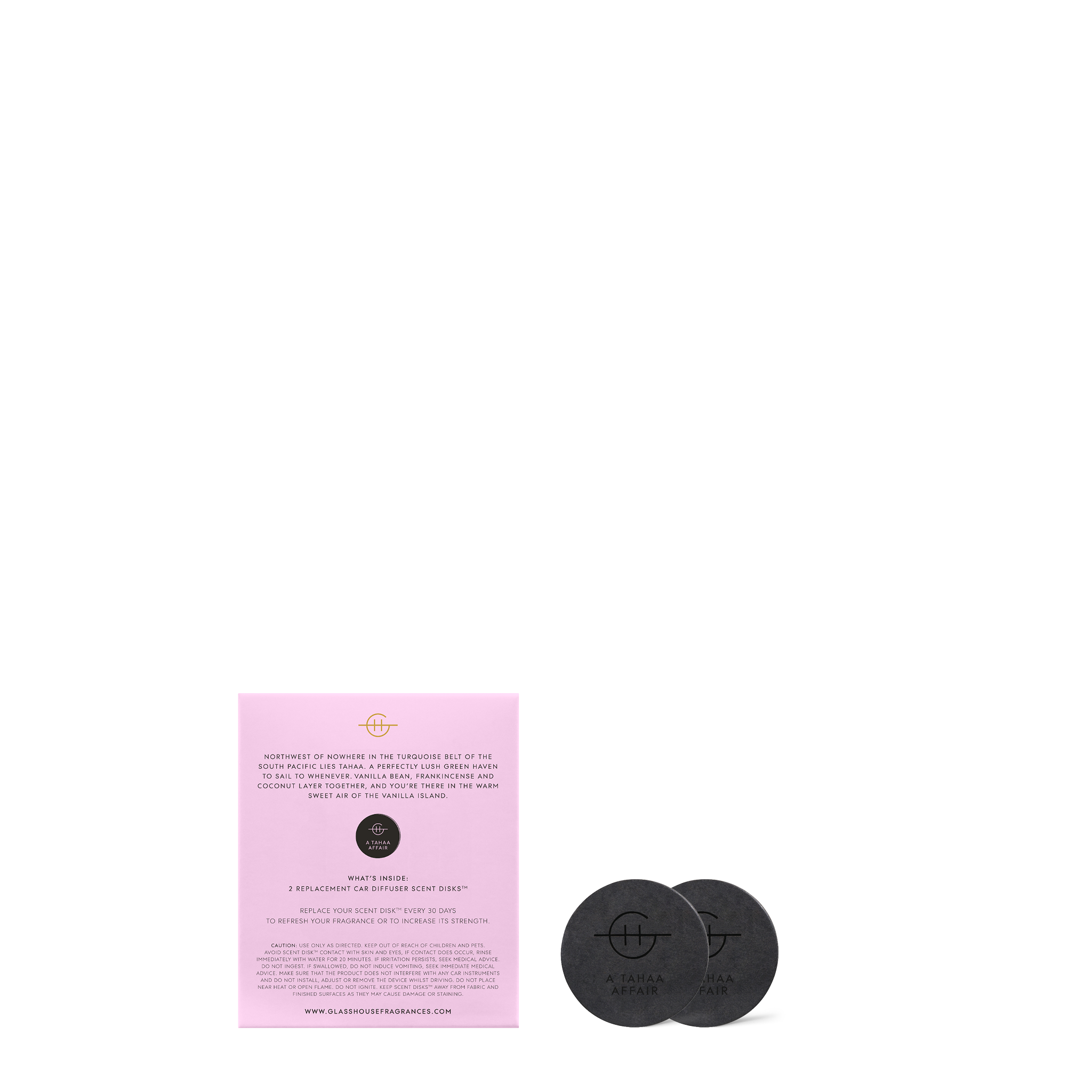 A Tahaa Affair
${ currentVariant.price | currencyFromCents }
${ currentVariant.compare_at_price | currencyFromCents }
${ product.price_min | currencyFromCents } - ${ product.price_max | currencyFromCents }
${ product.price | currencyFromCents }
${ product.compare_at_price_max | currencyFromCents }
VANILLA CARAMEL
Replacement Scent Disk™
A two-piece Scent Disk™ refill to refresh and strengthen the potency of your Car Diffuser. Blissful notes of vanilla, caramel and pineapple give paradise vibes.
Contains: 2 x Replacement A Tahaa Affair Car Diffuser Scent Disks™
Fragrance

Top Notes: Pineapple
Middle Notes: Coconut Fruity, Frankincense
Base Notes: Caramel and Vanilla
Instructions

1.Remove the Scent Disk™ from the sachet.

2.Place it into the Car Diffuser (Sold Seperately) by gently pulling the backing off from the metal faceplate.

3.Gently place the backing on the metal faceplate ensuring the longer clip is at the top and click to close, then slide the diffuser onto the car air vent to work its magic.

4.You're in the driver's seat, so increase the fragrance strength by turning the body of the diffuser clockwise and decrease it by turning anti-clockwise.

Replace your Scent Disk™ every 30 days to refresh your fragrance or to increase its strength. Replacement disks are sold separately.

Recycling Tip: Place your used paper Scent Disk™ back into this carton or an alternative paper container before recycling.
Shipping & Returns

Standard Delivery: $9.95 or free for orders over $45. Standard shipping takes 3-5 business days, depending on your location in the USA. More info
Returns: We accept returns within 30 days. T&Cs apply
About the Fragrance
Fragrance Family
Why You'll Love It
Untouched and unspoiled, Tahaa is the ultimate natural high. Its signature Vanilla fragrance is complemented with fresh Coconut and Frankincense for a magical Polynesian Island experience.
The innovative Scent Disk™ is designed to radiate fragrance into every corner of your vehicle for 30 days.
The replacement A Tahaa Affair Vanilla Caramel Scent Disk™ is part of the Gourmand Fragrance Family. Gourmand fragrances replicate the wonders of food ingredients. Sometimes fresh and fruity, other times sweet and decadent, but always delectable and ready to party. Discover more Gourmand fragrances here .
Northwest of nowhere in the turquoise belt of the South Pacific lies Tahaa. A perfectly lush green haven to sail to whenever. Vanilla bean, Frankincense and Coconut layer together, and you're there in the warm sweet air of the Vanilla Island.
Replacement Scent Disk™
VANILLA CARAMEL