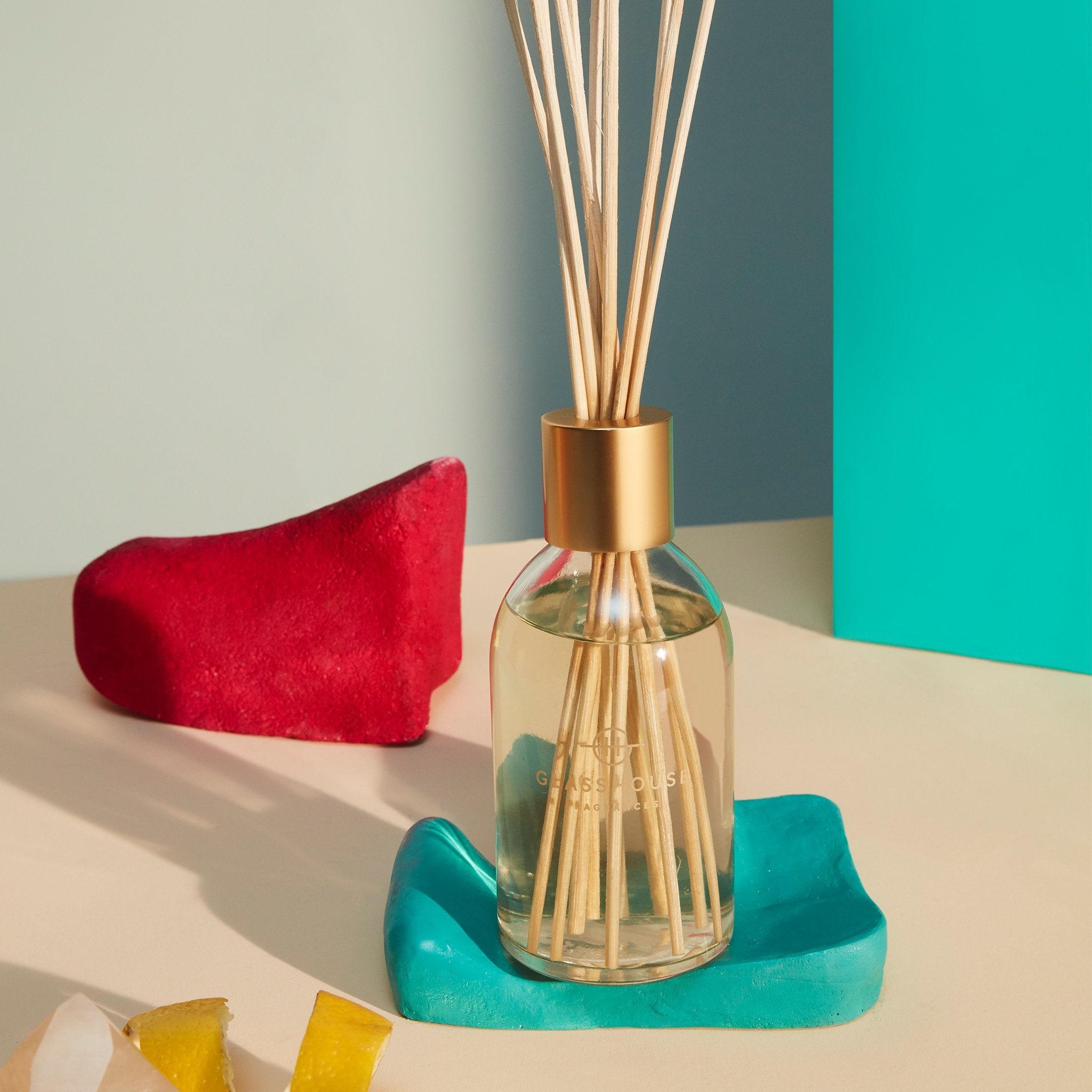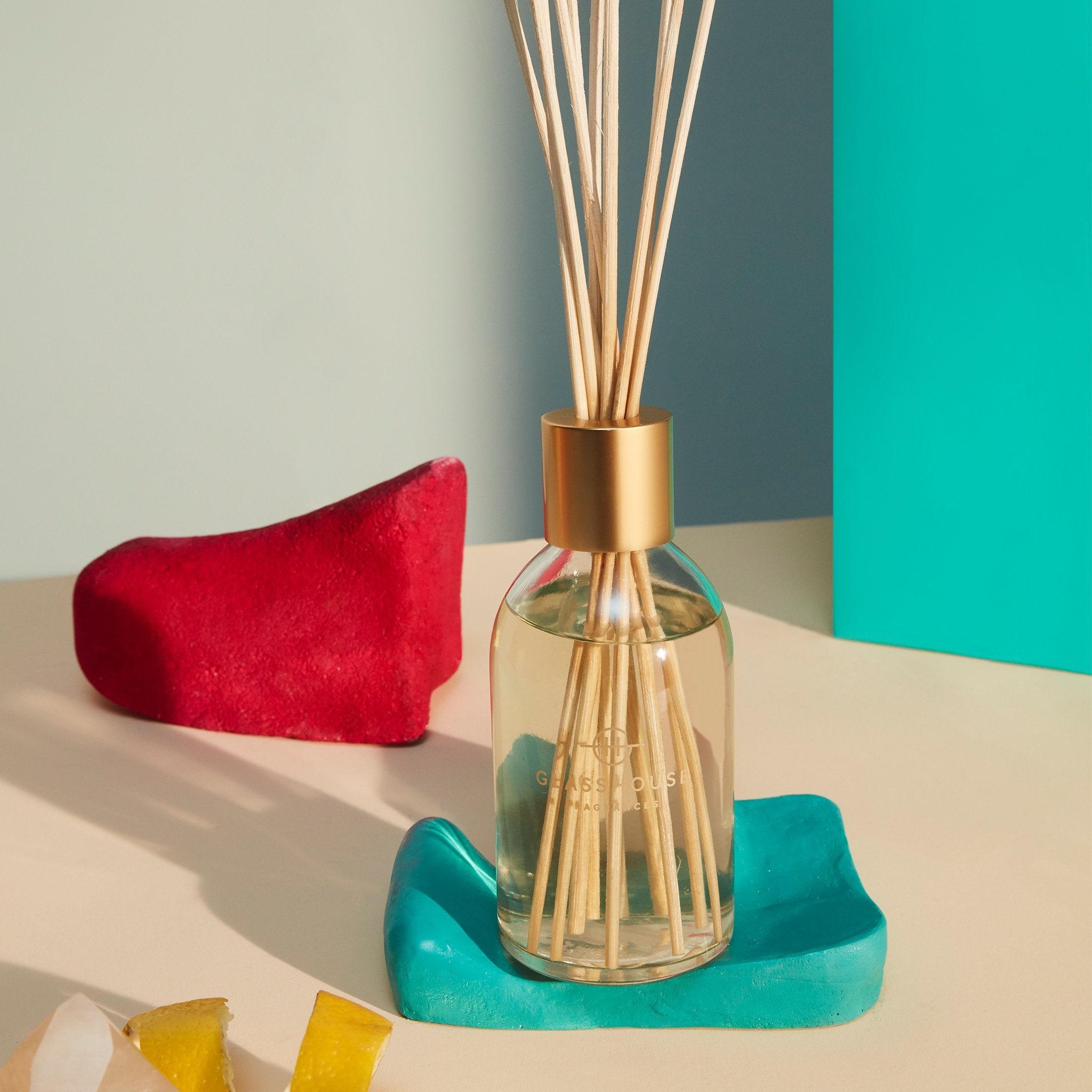 Marseille Memoir
${ currentVariant.price | currencyFromCents }
${ currentVariant.compare_at_price | currencyFromCents }
${ product.price_min | currencyFromCents } - ${ product.price_max | currencyFromCents }
${ product.price | currencyFromCents }
${ product.compare_at_price_max | currencyFromCents }
Gardenia
8.4 fl oz. Fragrance Diffuser
A clever flameless scent solution for uninterrupted ambience. Neroli, gardenia and breezy apple blossom will have you thinking of the Cote d'Azur.
Fragrance

Top Notes: Hyacinth, Neroli, Apple Blossom
Middle Notes: Gardenia, Carnation, Tuberose
Base Notes: Sandalwood, Incense, Clove Bud
Ingredients
Made using only alcohol, fragrance and water and are provided with only the best quality reeds which diffuse a fragrance that is generous and complex. Made in Australia.
Instructions Adjust the amount of fragrance diffused by turning the reeds more or less frequently - 1-2 times per week or when you see dry reed tips.
For best results keep out of direct sunlight, heat and drafts, and ensure the lid is screwed on tightly. Flip the reeds as often or as little as you like depending on how much fragrance you're after.
You may observe initial rapid evaporation of a Glasshouse Fragrance Diffuser, however this evaporation will slow down over time but the quality of the fragrance will not change. Please refer to the enclosed care instructions to get the best performance.
Shipping & Returns

Standard Delivery: $9.95 or free for orders over $45. Standard shipping takes 3-5 business days, depending on your location in the USA. More info
Returns: We accept returns within 30 days. T&Cs apply
Fragrance Strength
An enduring fragrance that can be powerful in a smaller room and more subtle in a larger area.
About the Fragrance
Fragrance Family
Diffuser Care
A compelling collision of urban edge, craggy coastline and riviera cool. Gardenia, sandalwood, cardamom and casaba melon capture Côte d'Azur grandeur with a hit of grit. Welcome to the sunkissed south, and a city with surprises around every corner.
The Marseille Memoir Gardenia 8.45 fl. oz. Fragrance Diffuser is part of the Floral Fragrance Family. Floral fragrances are classic and graceful, defined by fresh cut flowers, solifores (single floral notes) or bouquets with fruity highlights or powdery softness.
Discover more Floral fragrances here.
Keep out of direct sunlight, extreme heat, and draughty areas.You can expect your Diffuser to last up to three months, however timings do vary depending on the fragrance, how often the reeds are turned, and the environment in which the Diffuser is placed.
Very elegant and stronger than the candle but are perfect together. 
It is like Spring rain to me.
I love Glasshouse candles and now I've tried this diffuser I'm hooked!
8.4 fl oz. Fragrance Diffuser
Gardenia